I write and draw my own comics and it's one of the things I most like to do. I hugely enjoy it because it allows me to create a story, develop it, write a script, visualize and storyboard ideas, design characters and environments, draw the lineart and paint the final renders. I have a
comics website
where you can read some of my comics but as this is my Visual Development Portfolio you can see below a selection of the work I do on this field: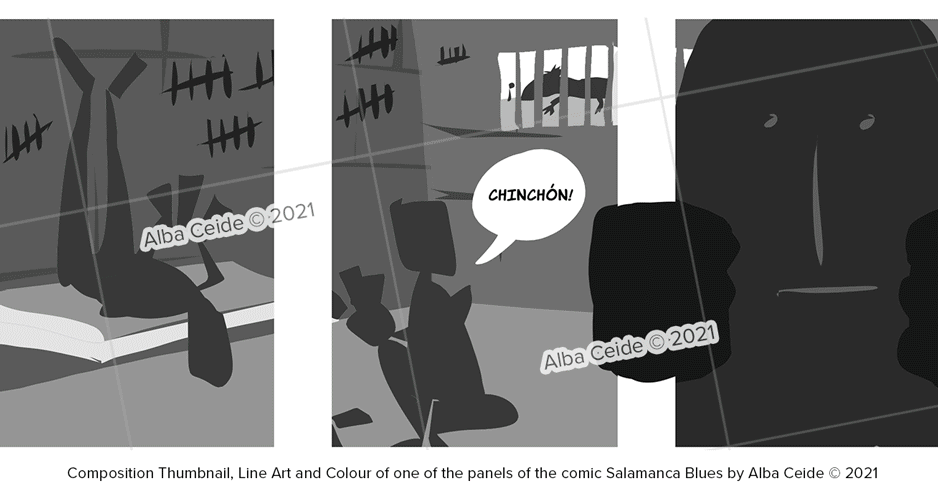 Once I have an idea for a story I write it down, make notes and research about the subjects, locations or whichever aspect may help me to give consistency to the script. For example, for my comic
Marguera Blues
I researched a lot about the real chemical plant of Porto Marghera (Venice, Italy) where I took inspiration from. Looking into the archive of Italian newspapers fom the 70's helped me to understand the huge damage that the chemical plant did on the Venetian lagoon and the citiziens of Marghera over the years.
When I understand what I'm going to write about, I storyboard the script  with very rough sketches to visually develop the story. Below you can see preliminary sketches I've done for
Salamanca Blues
, the comic I'm currenty developing: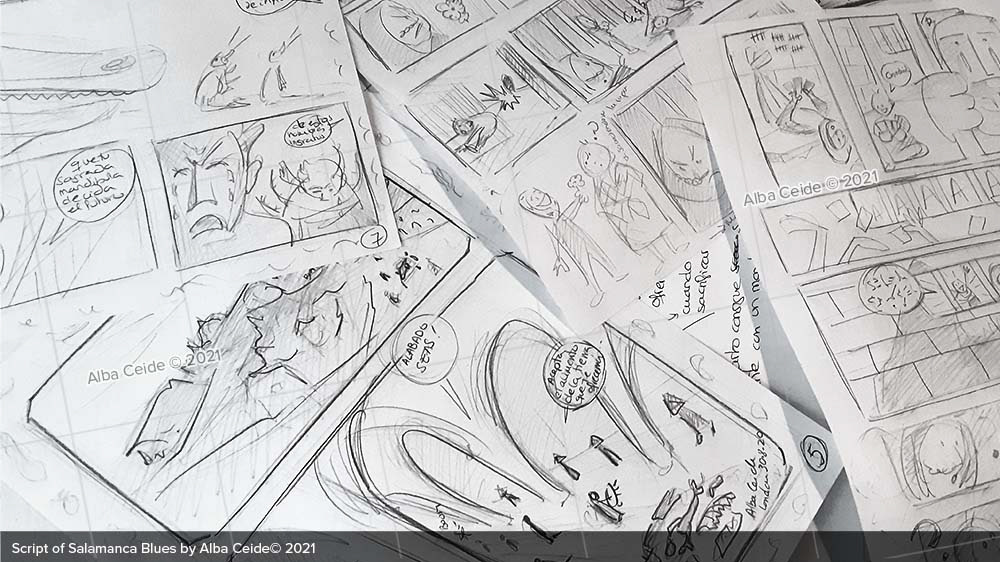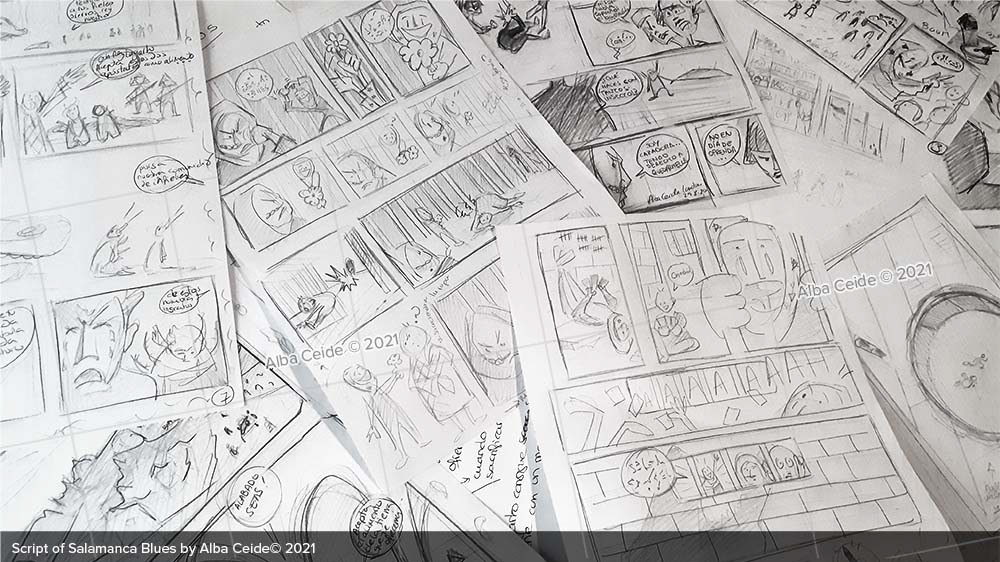 PAGE LAYOUT AND COMPOSITION THUMBNAILS
I also do thumbnail studies of the panels to deside and refine their composition. I normally do this in Photoshop and use very simple shapes and no more than three of four shades of grey. Below there're some examples. 

FROM SKETCHES TO THE FINAL PAGE
Once I finished the script and thumbnailed the panels, I draw the pages in detail and do the line art. Sometimes I do this by hand with brushes and ink, othertimes I draw it digitally in Sketcbook Pro. Below there are some examples of I made the pages of
School Walk,
Marghera Blues
and
Salamanca Blues
.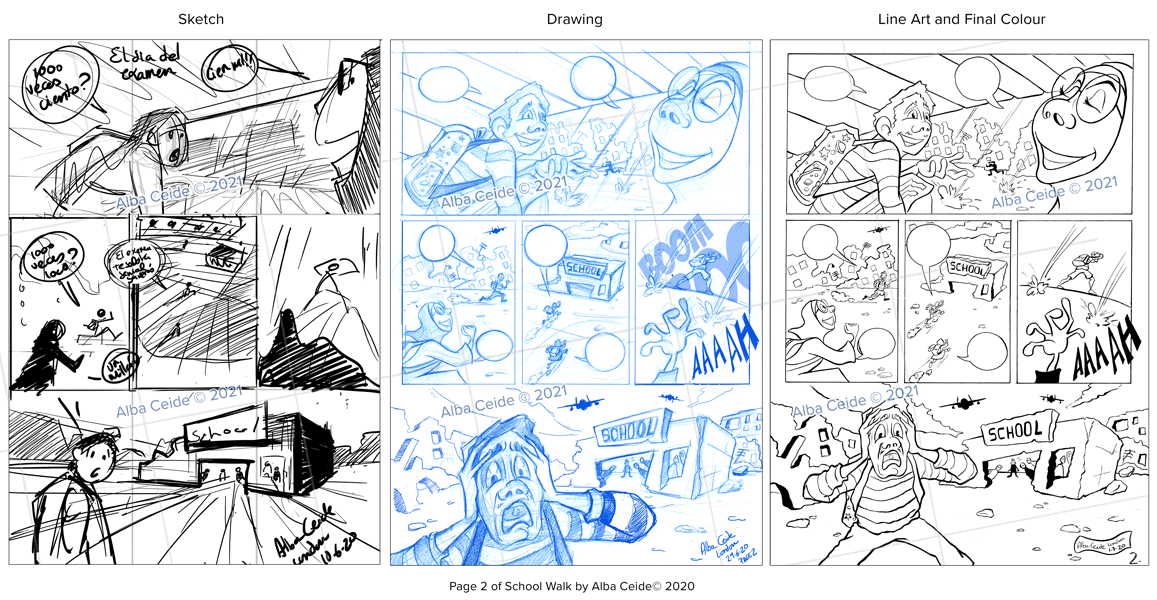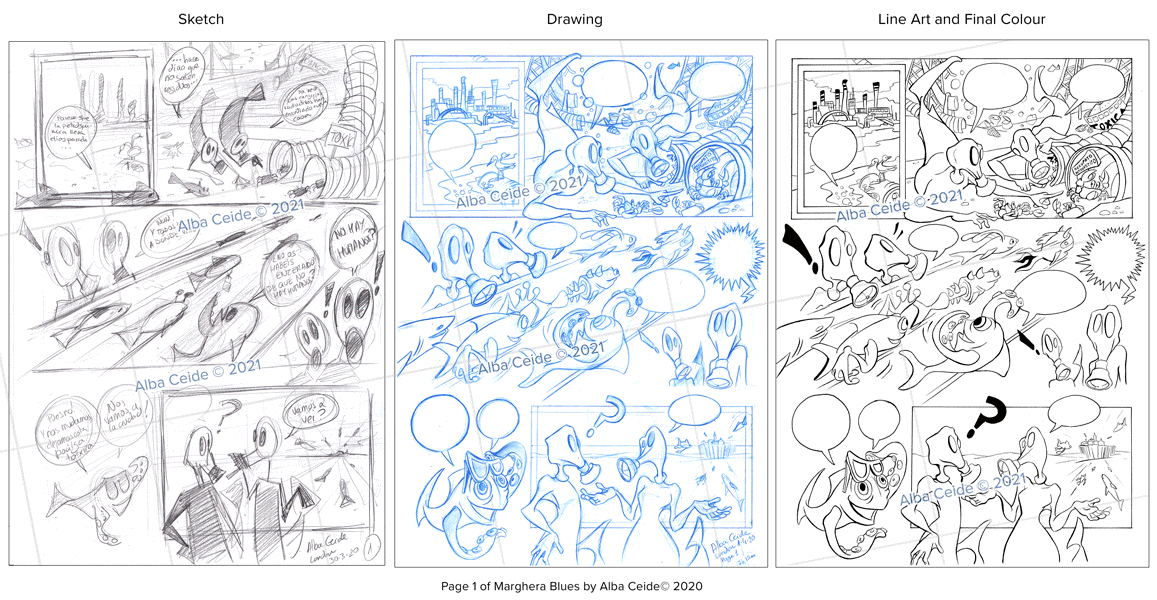 I normaly start designing the characters while writing the script of my comics. Here there's a selection of characters fromy my comics. The one below is a turnaround of Th eOld Punk lady from my comic
Angel People
:
These are some of the preliminary sketches and the final design of the crazy cat for my metacomic
The Lucky Horn
(for which I also did a motion comic):