I'm currenty working on the pages of my new comic Salamanca Blues, a story that happens in a very far future in Spain. The story starts in Salamanca city, where I actually lived the first three years of my BA in Fine Arts so I'm very familiar with its architecture and its climate. It's a gorgeous city made of golden stones and its summers are very hot.

These are some of the early concept art paintings I did to visualize the mood, lighting and colour palettes of the environments for my story. The buildings I painted are inspired by real buildings of Salamanca.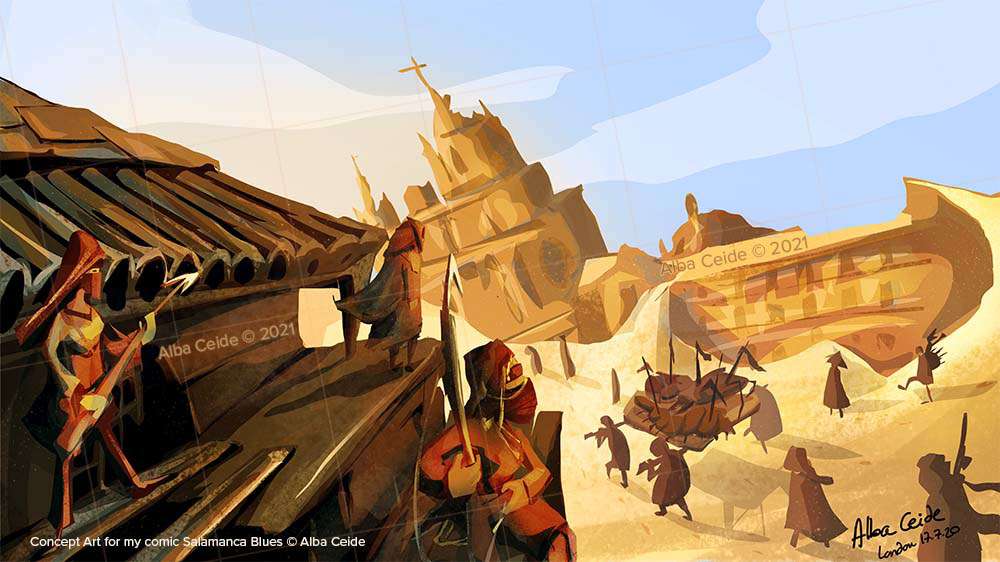 I'm fascinated by the lizards and enormous insects that there are in Salamanca and these are very important in my comic story. I got inspired by the Ocellated Lizard to design one of the main creatures of my comic:

​
As I developed the script further, I decided that I didn't want a serious and realistic look for my story. I wanted a touch of humor and a stylized look for my characters, creatures and environments so I worked further on the lizard to design one with a
​
more unique look: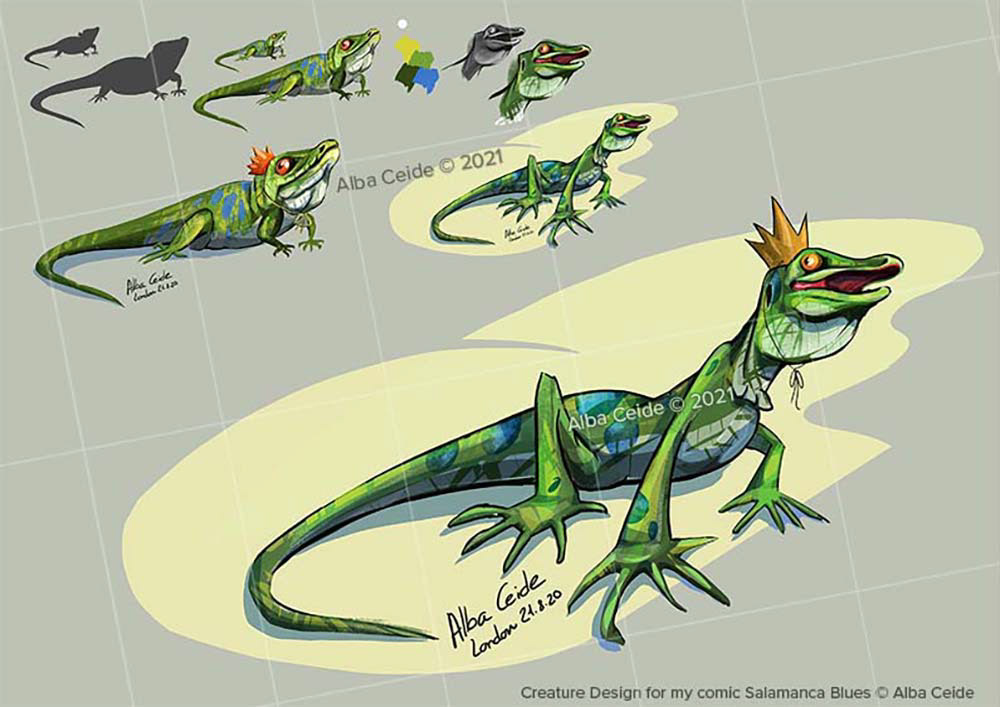 I liked the previous lizard studies were but they didn't reflect the mood that I wanted so I developed further the design and here you can see the final lizard in one of the panels of my comic: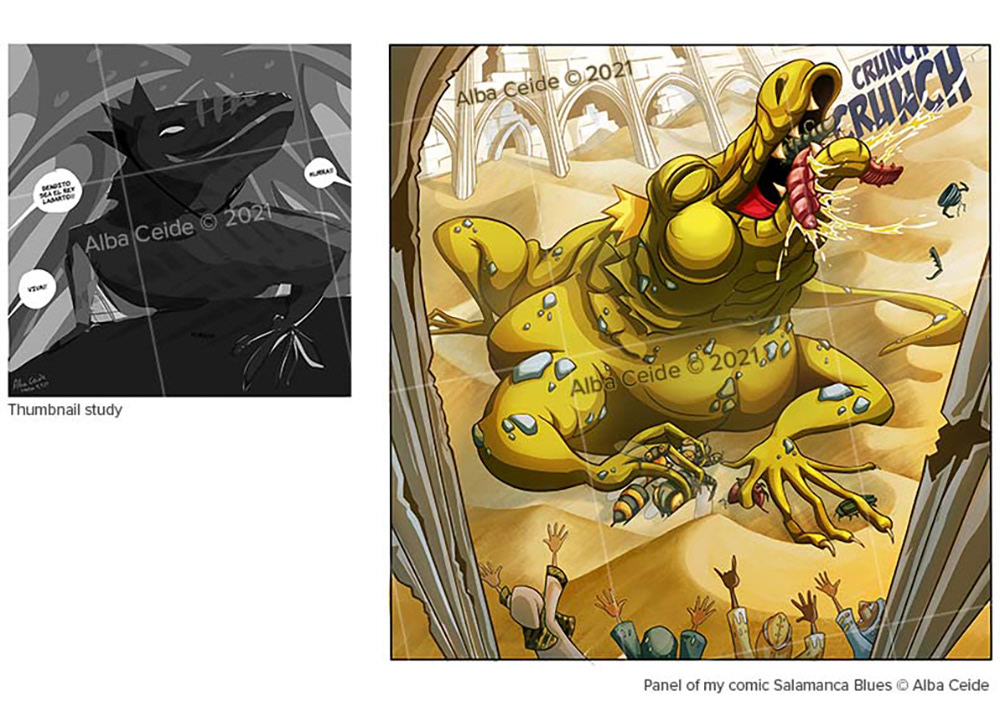 I worked a lot on the characters of this story. Here you can see the early studies I did to design the main protagonists: the hunter, the illusionist and the priest.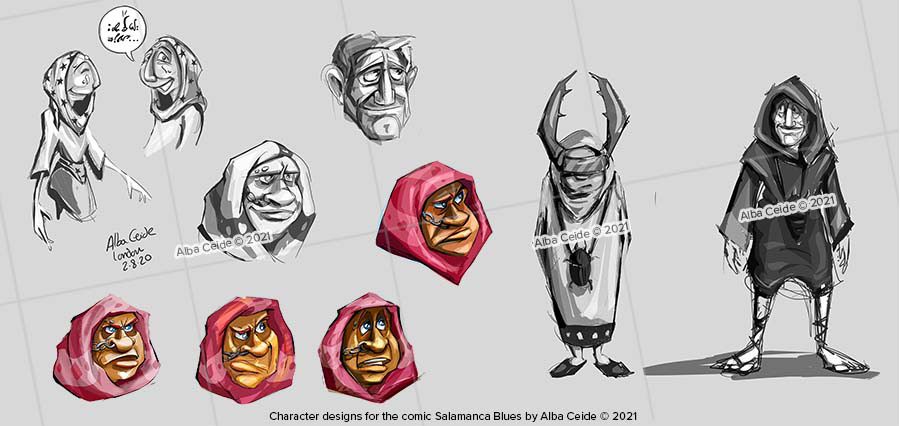 Below there's a selection of the character expressions that are already on the final pages of my comic. Here you can also see the final look of the three protagonists: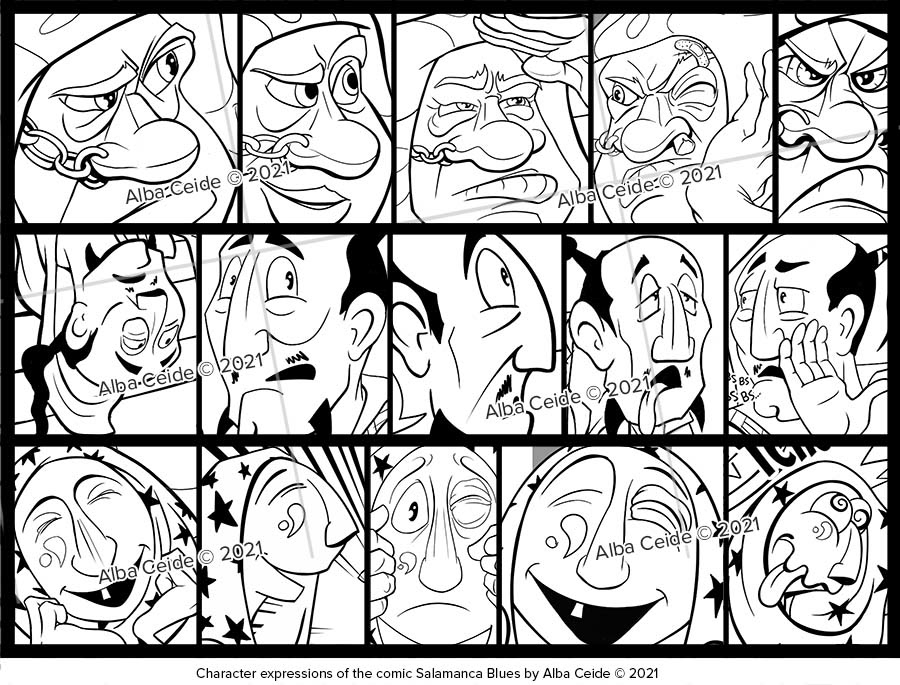 I prepared the following sequence of images to show how I created one of my final comic pages: the initial sketch, the composition thumbnail study, and the final rendered page with the line art that I drew in Spetchbook Pro and the final colouring I did in Photoshop.

And this is how I'm creating my comic Salamanca Blues!! I'm not far from finishing this project. Below there are photos of some of the final pages of the comic that I took against the real buidings in Salamanca: